David Michael Letterman is an American television host, comedian, writer, and producer who was born on April 12, 1947. He hosted late-night television talk shows for 33 years, starting with the premiere of Late Night with David Letterman on NBC on February 1, 1982, and concluding with the broadcast of Late Show with David Letterman on CBS on May 20, 2015.
Letterman was the longest-serving late-night talk show host in American television history, hosting 6,080 episodes of Late Night and Late Show, surpassing his friend and mentor Johnny Carson. Letterman was voted 45th on TV Guide's list of the 50 Greatest TV Stars of All Time in 1996. On TV Guide's 50 Greatest TV Shows of All Time list in 2002, The Late Show with David Letterman was ranked seventh.
He's also a film and television producer. Worldwide Pants, his production business, also produced The Late Late Show and other prime-time sitcoms, the most successful of which being Everybody Loves Raymond, which is now in syndication.
Read More: The House that Jack Built Controversy- Why Was "The House That Jack Built" so Controversial?
10 Years Later, David Letterman's Sex Scandal Remains Unresolved
David Letterman returned from a commercial break on The Late Show on October 1, 2009, and asked his audience if he could tell them a story. He told that he'd gotten into his car early one morning a few weeks before and discovered a weird parcel in the backseat. A letter was included in the package.
"'I know you do some terrible, terrible things,' it adds. "And I can prove that you do these heinous things," Letterman remarked on air. "And sure enough, there was evidence in the package that I do bad things." Uncomfortably, the audience laughed. He wouldn't reveal what those "awful things" were at first. He purposefully left them out, recounting what happened next while omitting that crucial piece of information.
Letterman informed the audience that he instantly dialed his attorney's number. Those who had left him the gift demanded $2 million in exchange for remaining silent about what they knew. His lawyer and he contacted the Manhattan District Attorney's Office, who notified them that the threat was blackmail. Letterman's extortionist met with the lawyer several times, including at least one meeting that was secretly videotaped, unbeknownst to the criminal. The individual was eventually given a forged $2 million check. The blackmailer was apprehended on the afternoon of October 1, just hours before the Late Show recording that day.
Throughout Letterman's monologue, which was laced with jokes, self-effacing asides, and statements of how "terrified" he was about the ordeal, the audience laughed and applauded. It all felt a little bit like a stand-up routine. Letterman finally revealed what "awful, terrible things" his blackmailer knew about him approximately seven minutes into the broadcast, after establishing himself as the victim. "The creepy stuff was that I've had sex with ladies who work for me on this program," Letterman remarked.
He Took a Breath and Stopped the Studio Was Completely Silent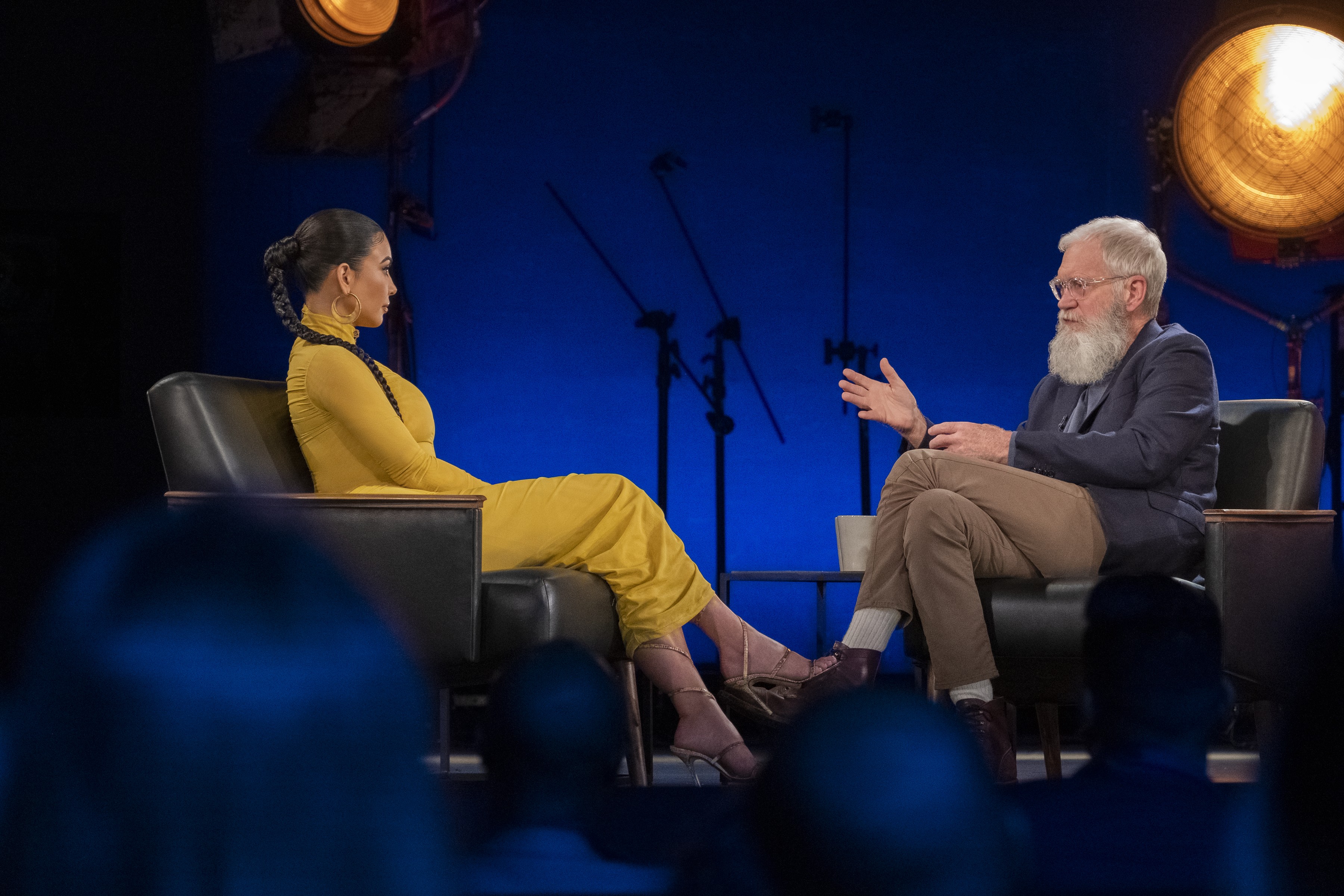 "To that, I say, yes, I have." Is it possible that it would be humiliating if it were made public? Maybe it would. "Perhaps," Letterman speculated. "This is especially true for women." The audience burst out laughing and applauding.
That was the extent of Letterman's comments on the subject. He moved to a commercial break a few moments later, and when he returned, he brought out Woody Harrelson.
Details about Letterman's personal life were revealed in the news over the next few days. Stephanie Birkitt, a 34-year-old intern on The Late Show who rose through the ranks to become Letterman's personal assistant and appeared in a slew of pieces, including as a journalist at the Olympics, had allegedly been sleeping with him. Joe Halderman, the blackmailer, was her lover. Holly Hester, another woman, told TMZ that she dated Letterman while interning on the Late Show and as a student at NYU.
When Letterman admitted to having sex with women who worked for him, he was married. To Regina Lasko, he still is. They met while she was working as a production assistant on Late Night with David Letterman; he was already seeing Merrill Markoe, his previous head writer, at the time they began dating.
Letterman apologized to his employees and wife on-air on the Monday after his confession, apologizing for his infidelities. "She's been profoundly affected by my actions, and when something like that happens, if you harm someone and it's your fault, you want to make it right," Letterman added. "And there are only two things that can happen at that point: either you'll make some progress and have it corrected, or you'll fall short and perhaps not get it solved." So, folks, let me tell you something: I've got my work cut out for me."
He never mentioned the incident on The Late Show after that The audience's reaction to Letterman's admission was virtually a collective shrug. Barbara Walters praised him for going clean and getting ahead of the story on The View, describing him as "a really attractive man" who had not been accused of sexual harassment. "How do you meet new people?" "At work," she explained. "This isn't a case of sexual harassment."
Maureen Dowd, writing for the New York Times, denied the notion that Letterman's behavior was inappropriate, noting that "the ladies who got connected with Letterman were not coerced." "Sexual harassment" she defined as "pressuring or punishing a coworker or making the workplace uncomfortable." "At this point, there's no proof that Letterman did it."
Read More: State Farm Controversy- an Insurance Company Has Been Chastised for Sending out LGBTQ-Themed Pamphlets to 5-Year-Olds!
Letterman may or may not have ever forced staff members to have sex with him. But that doesn't mean his actions deserved such a broad, all-forgiveness pass. At The Late Show, Birkitt's star swiftly rose. She became a regular on-air personality after being promoted to his assistant, making over 250 appearances on camera. According to colleagues who worked on the show during Birkitt's tenure, her personal relationship with Letterman was practically an open secret, according to an article in New York Magazine.
What were the feelings of other female colleagues who weren't sleeping with Letterman when they saw Birkitt's career take off so well? At least not that we are aware of, Letterman never explicitly dangled sex as a means of advertising on The Late Show. But that doesn't mean Letterman didn't create an uncomfortable, toxic environment for other women who worked for him by paying special attention to an employee with whom he had a sexual relationship.
To Know More Latest Updates You Can Visit Our Official Website: https://www.techstry.net/