The word "expensive" comes to mind when thinking of luxury timepieces. Multi-million dollar creations, the world's most intriguing, rare, and opulent timepieces are intended for tightly guarded private collections, if not museums. There's a reason it's called Haute Horlogerie.
Pilot watches, dive watches, field watches, and dress watches are all available. The world's most costly timepieces, on the other hand, are in a league of their own. Their entire reason d'être appears to be to set world records, attract top collectors, and entice millionaires, billionaires, royal family members, and Hollywood A-listers to empty their wallets.
These watches, which come from the world's most expensive watch brands (think Patek Philippe, Rolex, Chopard, and Vacheron Constantin), turn the heads of anyone even mildly interested in timepieces with their exquisite engineering, superb styling, precious stones, precious metals, and exclusivity—many of them being one-offs or limited editions—turn the heads of anyone even mildly interested in timepieces.
1. Graff Diamonds Hallucination – $55 million
With a price tag of $55 million, the Graff Diamond Hallucination is the most expensive watch ever created. However, the term "watch" is used extremely loosely here. A little quartz dial surrounded by small pink diamonds can be seen right in the center of the item among the plethora of breathtakingly exquisite gems.
The worth of this timepiece is determined by what is around it, not by the quartz dial in the center. A plethora of Fancy Vivid Yellow, Fancy Intense Blue, Fancy Light Grey Blue, Fancy Green, Fancy Orange, and, of course, Fancy Intense Pink, and Fancy Light Pink diamonds make up the Graff Hallucination. The total weight of the diamonds on this watch is 110 carats. A wide range of cuts, including marquise, radiant, pear, round, and heart-shaped diamonds, have been utilized to enhance its attractiveness.
2. The Fascination of Graff Diamonds – $40 Million
Graff Diamonds, known for its opulent diamond jewelry, produced The Fascination timepiece, which has 152.96 carats of diamonds and a 38.14-carat D Flawless pear shape center diamond.
The center diamond can be detached and worn as a separate ring.
3. $30 Million Breguet No.160
One of Marie Antoinette's lovers is said to have commissioned the original version of this painting for her. The watch was started in 1782 by Abraham-Louis Breguet, and Marie Antoinette was executed before it was finished in 1827 by Breguet's son.
It included a thermometer, chime, and perpetual calendar, as well as every known complication at the time. The watch was on exhibit in Jerusalem's L.A. Mayer Museum until 1983, when it was stolen. The object was eventually found and is now on exhibit at the Mayer Museum.
4. $25 Million Chopard 201-Carat Watch
This magnificent clock is set with 874 diamonds totaling 201 carats in a rainbow of colors. Three heart-shaped diamonds in yellow, pink, and blue make up the Chopard watch's centerpiece.
5. Supercomplication of Patek Philippe – $24 Million
Patek Philippe made this gold pocket watch for banker Henry Graves Jr. in 1933. It took Graves 5 years to design and create, and it has 24 complications, including a perpetual calendar, sunrise and sunset times, and a cosmic calendar from his Fifth Avenue apartment.
6. Billionaire Watch by Jacob & Co. – $18 Million
260 carats of emerald-cut diamonds, 167 separate components, and 19 gemstones make up the Billionaire Watch. The bracelet and watch face are constructed of 18K white gold and are one piece.
7. Rolex Daytona Paul Newman – $17.8 Million
Paul Newman's Rolex Daytona, a movie actor and race car enthusiast, sold for a whopping $17.8 million in 2017. The 1968 Daytona reference 6239 was engraved with "Drive Carefully, Me" by wife and actress Joanne Woodward in an art deco design. Paul then gave it to his daughter's boyfriend, who donated a large portion of the proceeds to the Nell Newman Foundation.
8. Patek Philippe Ref. 1518 – $11.1 Million
The stainless steel-cased Patek Philippe ref 1518 sold for slightly over $11 million at a watch auction in late 2016. In 1941, Patek Philippe released the 1518 model, which was the first serially produced perpetual calendar chronograph timepiece.
9. Vacheron Constantin 57260 – $8 Million
Vacheron Constantin's 57260 watch is a technological and artistic marvel with 57 complexities, 2826 unique components, and 242 diamonds. It took 8 years to design and build and was reportedly commissioned for $8 million by a private client.
10. $5 Million Hublot Big Bang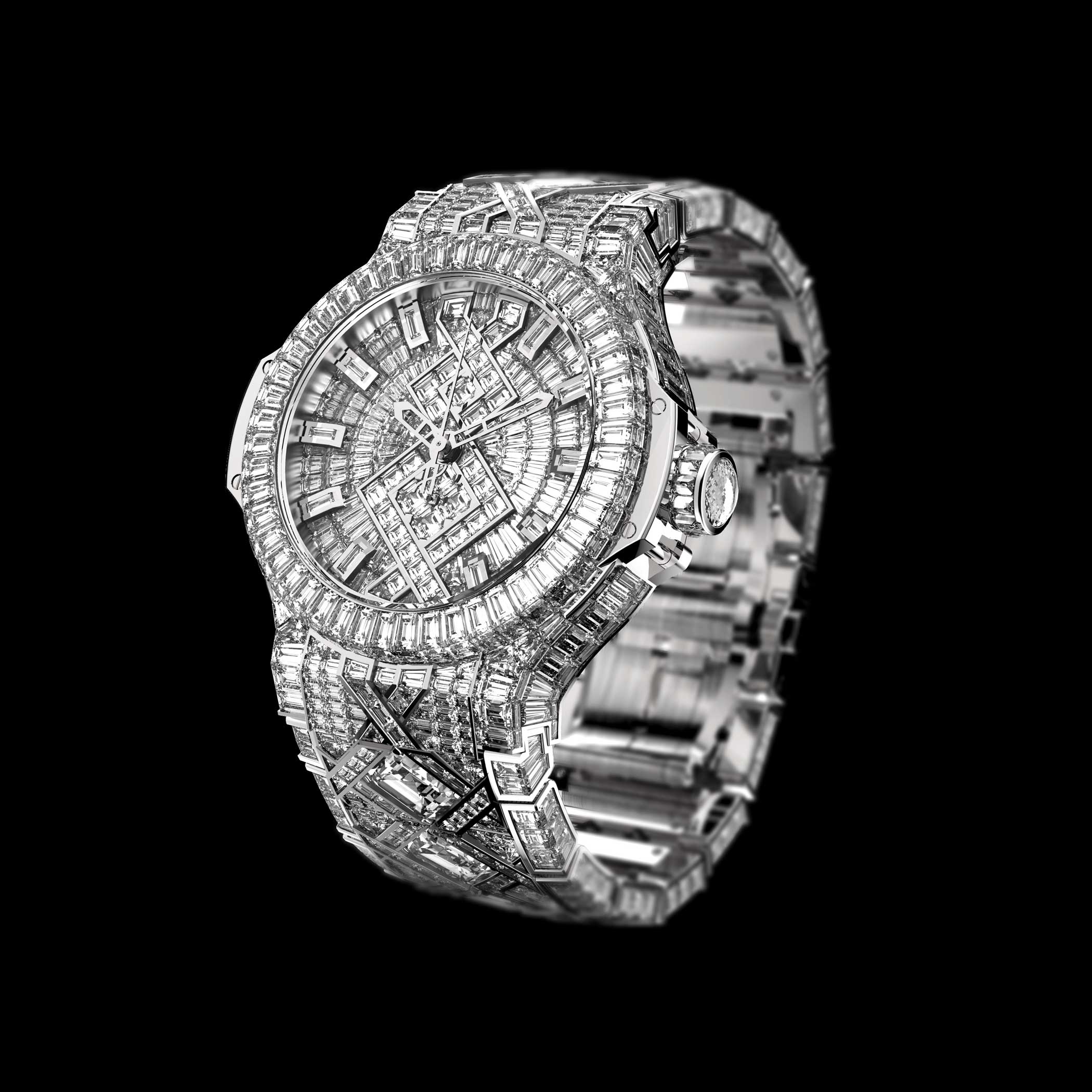 The Big Bang watch from Hublot has a total of 1,282 diamonds, including almost 100 carats of baguette diamonds and six emerald-cut diamonds totaling more than 3 carats apiece. Beyoncé notably bought a Hublot Big Bang watch for her husband Jay-birthday Z's in 2012.