According to Israel, Russian President Vladimir Putin has apologized for remarks made by his Foreign Minister Sergei Lavrov, who claimed Adolf Hitler had "Jewish blood."Israel, which has pushed to retain connections with Russia following the invasion of Ukraine, was outraged by Lavrov's remarks.
Bennett's office stated in a statement that "the Prime Minister accepted President Putin's apologies for Lavrov's words and thanked him for clarifying his approach toward the Jewish people and the Holocaust memorial."
Read More: Dan Bellino Apology- Bumgarner Addresses Umpire's Apology!!
A Kremlin report of the Bennett-Putin chat, which came as Israel celebrated its 74th anniversary, made no mention of Putin apologizing. It did, however, mention that the leaders discussed the Holocaust's "historic memory." Lavrov said that Ukrainian President Volodymyr Zelensky "puts forward an argument of what sort of Nazism they can have if he himself is Jewish" in an interview with an Italian media source published on Sunday.
The Prime Minister has offered a heartfelt apology and made changes.

He is leading in the fight against Putin's illegal and brutal invasion of Ukraine and is the best person to lead the UK.

Both the Prime Minister and the Chancellor have my full backing.

— Alok Sharma (@AlokSharma_RDG) April 12, 2022
"I could be mistaken, but Hitler also had Jewish blood," Lavrov added, according to a transcript posted on the Russian foreign ministry's website. The comments were described by Israeli Foreign Minister Yair Lapid as "an inexcusable and disgusting statement as well as a horrible historical blunder."
Bennett slammed the remarks, calling them "falsehoods" that essentially "accuse the Jews of the most heinous atrocities in history" committed against themselves. The Russian ambassador was summoned to Israel to "clarify" the remarks.
Initially, the Russian Foreign Ministry doubled down on the remarks. It labeled Lapid's remarks "anti-historical" and accused Israel of assisting neo-Nazis in Ukraine in a statement released on Tuesday. Ukraine's Foreign Minister Dmytro Kuleba tweeted on Thursday, following a phone discussion with Lapid, that "antisemitism has a long track record among Russian elites," and urged Lavrov to publicly apologise.
Read More: Dillon Brooks Apology- Dillon Brooks Isn't Going to Apologize for Oregon's Swagger and Energy
Since Russia invaded Ukraine in February, Israel has tried to walk a fine line, with Bennett emphasizing Israel's close relations with both Moscow and Kyiv. Bennett has worked hard to maintain Russian cooperation with Israeli operations in Syria, where Russian troops are present.
Israel has so far declined Ukraine's pleas for military assistance, instead of providing medical personnel with bullet-proof jackets and helmets, as well as an Israeli field hospital.
Kyiv is upset by the hesitancy. In a scathing speech to Israel's Knesset in March, Zelensky urged the country to increase military funding and supply Ukraine with Israel's Iron Dome missile defense system, which he deemed "the best in the world."
Bennett has tried to mediate the issue and is one of only a few foreign leaders to meet with Putin since the invasion, having been to Moscow in early March. Since the invasion, more than 6,000 Russian Jews have relocated to Israel, according to Israel's Immigration and Absorption Ministry.
The Defeat of The Nazis
Putin has depicted the war in Ukraine as a struggle against Nazis, evoking Russia's deeply embedded story of suffering and heroism during World War II, despite the fact that the country has a democratically elected government and a Jewish president whose ancestors were slain in the Holocaust.
Following the Holocaust, Israel acquired independence and became a haven for the world's Jews. The Holocaust and its commemoration remain important to Israel's national identity, and the country recently commemorated Holocaust Memorial Day. During World War II, the Nazis and their accomplices murdered six million Jews.
Despite the conflict, Israel has attempted to retain relations with Russia, in part because Russia has a substantial military presence in Syria, where Israel routinely bombs suspected Iranian military targets. To avert a conflict, Israel and Moscow coordinate their efforts in Syria.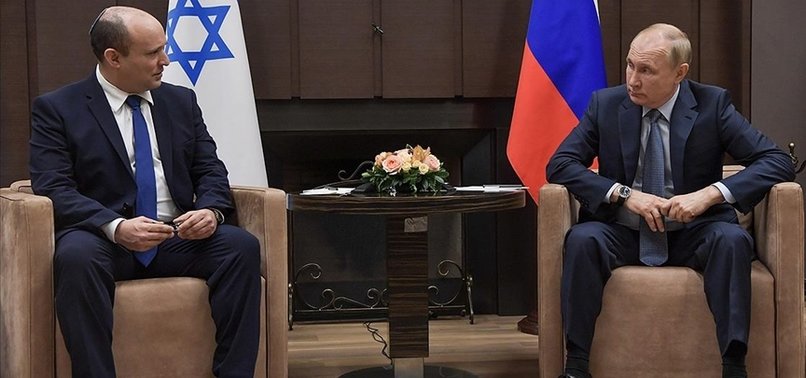 Bennett was then allowed to attempt to negotiate between the parties in Ukraine, a position he appears to have resumed this week. Bennett's office claimed he and Putin talked about efforts to evacuate residents from a besieged steel mill in the southern Ukrainian port city of Mariupol. Bennett and Zelenskyy had a phone conversation on Wednesday.
Read More: State of Decay 3 Release Date: Everything You Need to Know!
Putin had "promised to facilitate the evacuation of civilians, including wounded civilians, through a UN and Red Cross humanitarian corridor," according to Bennett's statement.