Shubhdeep Singh Sidhu, best known by his stage name Sidhu Moose Wala (11 June 1993 – 29 May 2022), was an Indian musician, rapper, actor, and politician involved with Punjabi music and cinema. He began his career as a songwriter for Ninja's song "License," and then moved on to singing in a duet called "G Wagon." Following his debut, he teamed with Brown Boyz on a number of Humble Music-released tunes.
With his song "So High," Moose Wala got a lot of attention. His debut album, PBX 1, was published in 2018 and reached number 66 on the Billboard Canadian Albums chart. Following the release of the album, he began publishing his tracks on his own. His track "47" reached number 47 on the UK Singles Chart in 2019. The Guardian named Moose Wala one of 50 up-and-coming musicians in 2020. [4] Ten of his songs have reached the top of the UK Asian chart, with two of them reaching number one. On the Global YouTube music chart, his song "Bambiha Bole" was in the top five. He released Moosetape in 2021, with tunes charting on the Canadian Hot 100, UK Asian, and New Zealand Hot charts.
Read More: Sidhu Moose Wala Net Worth: A Closer Look Into Indian Musician Life, Career, & Lifestyle in 2022 and Latest Updates About His Death!
Sidhu Moose Wala's Death: A Controversial Singer and Politician
Moose Wala, who had over 10 million YouTube subscribers and 7 million Instagram followers, was arrested for advocating firearms through his music and discharging an Ak-47 rifle and a pistol during the Covid-induced lockdown. Moose Wala, a young rapper who ran for state office in Punjab in 2022, was shot and killed by unidentified gunmen barely two weeks before his 29th birthday.
Shubhdeep Singh Sidhu, nicknamed Sidhu Moose Wala, a Punjabi musician and Congress activist, had a passion for weapons and, in a tragic turn of events, was killed in a shower of gunfire at Jawaharke village in Mansa district on Sunday.
Unidentified assassins shot and killed the young rapper only two weeks before his 29th birthday, just two weeks before he was set to enter politics in Punjab's state elections in 2022. The assassination, which occurred a day after the state government tightened Moose Wala's security, has shocked and outraged his admirers, who are now demanding justice for him. Moose Wala, whose songs had forceful macho lyrics, was certainly one of the most popular Punjabi artists worldwide, having a devoted following among the youth. He has over 10 million YouTube subscribers and 7 million Instagram followers.
Controversies Are a Part of Life
Born in Mansa's Moosa hamlet, he rose to prominence quickly after moving to Canada on a student visa in 2016, but quickly earned the reputation of being controversy's favorite child. His violent songs are accused of promoting gun culture and have resulted in a slew of criminal charges. His Instagram, Facebook, and Twitter sites frequently featured him with weapons or in the presence of persons who flaunted weaponry. His official YouTube channel logo used to include a man clothed in black, with his face hidden behind a mask, and wielding an AK-47 assault rifle. Instrumental music that glorifies the use of firearms
In February 2020, the singer was arrested in Mansa district for promoting gun culture through a song titled 'Panj Golian.' He was charged under Sections 509 (intentional insult with intent to provoke breach of the peace), 294 (reciting obscene songs), and 149 (unlawful assembly) of the Indian Penal Code (five bullets). After recordings of him using an Ak-47 rifle and a revolver at firing ranges during the coronavirus-induced lockdown went popular on social media, he was booked again on May 4 by Barnala and Sangrur police for crimes under the Disaster Management and Arms Act.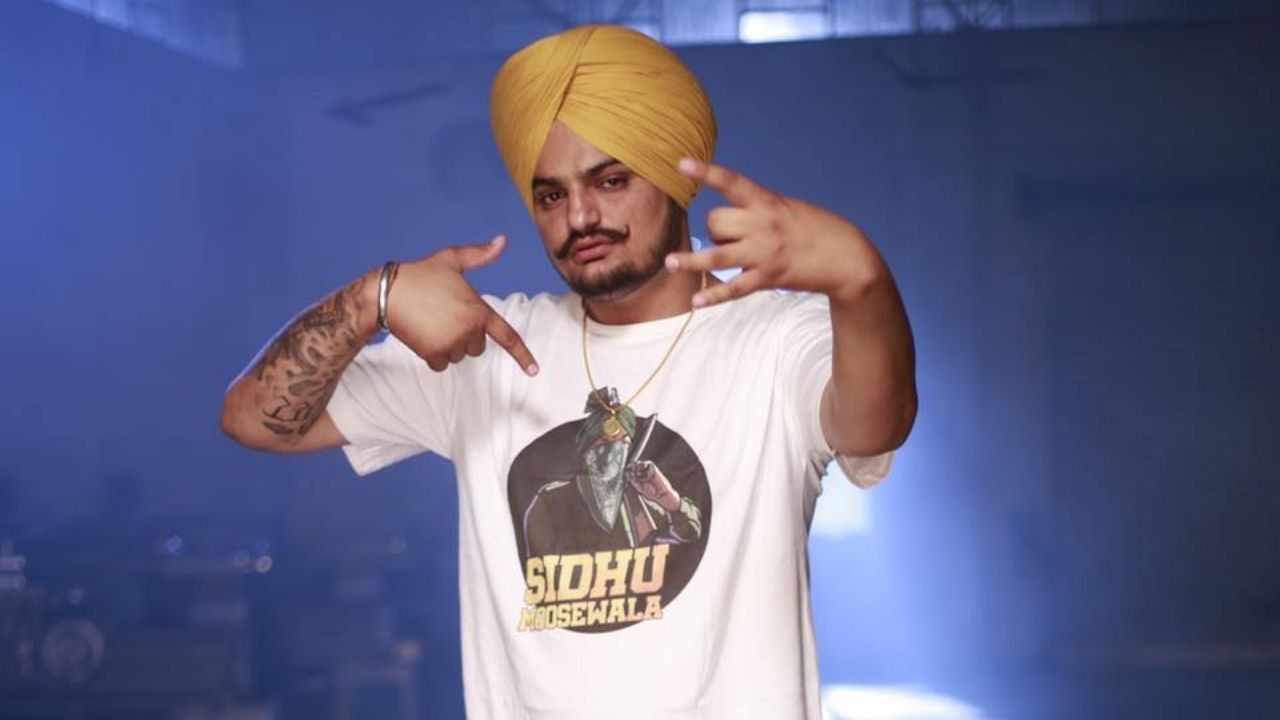 Following his release on bail, Moose Wala published the song "Sanju," in which he boasted about the cases filed against him under the Arms Act, comparing himself to Bollywood actor Sanjay Dutt, who was once arrested for illegally possessing an assault gun. His song's lyrics were as follows: The lyrics declare, "Ho channel an te charcha jehi badhi judd gayi, Gabbru de na naal aa santali jud gayi," (There is a lot of gossip on channels, the young guy has been linked to 47).
"Gabru te case jehda, Sanjay Dutt te, Jatt utte case jehda," says another lyric. Sanjay Dutt ti te te te te te (the young man faces the case that Sanjay Dutt faced, the Jatt faces the case that Sunjay Dutt faced.) In July 2020, the police filed a new complaint against him under the Indian Penal Code's Sections 188 (disobedience to order), 294 (obscene acts and songs), and 504 (provocation to breach public peace) for glorifying the use of weapons and boasting about the FIRs through this song.
The Assassination of A Well-Known Indian Singer Has Sparked Outrage
The assassination of a singer in Punjab, India, a day after his security cover was slashed, has generated indignation. On Sunday evening, Shubhdeep Singh Sidhu, also known as Sidhu Moose Wala, was shot by unidentified assailants while traveling in the state's Mansa district. He was 28 years old at the time.
The attack also resulted in the injuries of two additional people. Police stated they were looking into the event and suspected gang involvement. On Sunday, state police head VK Bhawra said a criminal from Canada claimed responsibility for the incident. Moose Wala's family, on the other hand, has requested an apology from the police chief for attributing his death to gang rivalry without conducting a thorough investigation.
Read More: Ricky Gervais Net Worth 2022: The Rise of The Personality – Check out Now!
Punjab's chief minister, Bhagwant Mann, ordered an investigation into the incident on Monday, led by a high court judge, and urged Mr. Bhawra to clarify his claims. The assassination of Moose Wala has ignited a political storm in the state, with opposition leaders questioning why Mr. Mann's Aam Aadmi Party (AAP) government had reduced security coverage for the musician. Moose Wala's security detail had been cut from four to two commandos, according to police, and these policemen were not traveling with the musician when he was attacked. Moose Wala was one of nearly 400 Punjab residents whose security detail was recently withdrawn or reduced by the government.
Mr. Mann stated that the action was made in part as part of a government initiative to combat the so-called "VIP culture," which favors politicians over ordinary individuals. It was also done, according to police sources, to increase security ahead of the forthcoming anniversary of the infamous Operation Blue Star, in which the Indian army attacked the Sikhs' most sacred temple in 1984. However, after the identities of those on the list were released on social media, the government's move sparked outrage, with some claiming that it increased the risk to their lives.
To Know More Latest Updates You Can Visit Our Official Website: Techstry