Zverev, Alexander "Sascha" Alexandrovich (born April 20, 1997), is a professional tennis player from Germany. The Association of Tennis Professionals (ATP) has him ranked as high as No. 3 in the world, and he has been a regular in the top 10 since July 2017. ATP Finals wins in 2018 and 2021, as well as a gold medal at the 2020 Tokyo Olympics, are among Zverev's career achievements. He has 19 ATP singles titles and two ATP doubles titles under his belt, and he made his first major final at the 2020 US Open, finishing second to Dominic Thiem. Outside of the Big Four, Zverev is the only active player with five Masters 1000 championships.
Zverev is a former junior world No. 1 who won the 2014 Australian Open junior Grand Slam singles title. He also made an early mark on the professional tour, winning the Challenger title at the age of 17 and becoming one of the youngest Challenger title winners in history. Zverev won two ATP titles as a youngster, including a grass-court victory over then-world No. 3 Roger Federer. He became the youngest player to debut in the top 20 since Novak Djokovic at the age of 20. Zverev has been a crucial part of Team Europe's early success in the Laver Cup, winning the clinching matches in both 2018 and 2019.
Read More: Jerry Jeudy Girlfriend- Jerry Jeudy, Antoinette Tharp, and A Complex Life!
Who Is Zverev's Girlfriend in The Year 2022?
Sophia Thomalla is a German actress, model, and television presenter who is dating Alexander Zverev, a German tennis player. Thomalla, who was born on October 6, 1989, has been dating Zverev since 2021. Since 2012, she has been a staunch supporter of the Christian Democratic Union of Germany (CDU).
Thomalla previously dated Till Lindemann of Rammstein from April 2011 to November 2015. In Marietta, Georgia, she married Norwegian singer Andy LaPlegua on March 11, 2016. She announced their divorce in May 2017. Thomalla dated British artist Gavin Rossdale from 2017 to 2018, but in March 2019, she began dating German goalkeeper Loris Karius, with whom she later moved to Istanbul, Turkey, where he was playing football. Thomalla has been dating German tennis star Alexander Zverev since 2021. In 2012, Thomalla joined Oliver Beerhenke and Mirco Nontschew in the ensemble of Sat.1's comedy series Die Dreisten Drei.
In 2016, Thomalla served on the RTL Dance Dance Dance jury alongside DJ BoBo and Cale Kalay; Pain & Fame on Sixx, where Germany's greatest tattoo artists competed.
Alexander Zverev and Sophia Thomalla Met Through a Mutual Friend
The couple started dating in the year 2020. Prior to her relationship with Zverev, Sophia had dated footballer Loris Karius, artist Gavin Rossdale, and Till Lindemann von Rammstein. She married Andy LaPlegua, a well-known singer, in 2016, but the couple split after a year.
Is There a Child Between Alexander Zverev and Sophia Thomalla?
Thomalla and Zverev do not have children together. For the past two years, the couple has been dating. He went on to say how Sophia motivates and encourages him in his job.
An Ex-Girlfriend Has Accused You of Domestic Violence?
In a tennis article published in Racquet magazine by journalist Ben Rothenberg in October 2020, Zverev's ex-girlfriend Olga Sharapova claimed Zverev physically and emotionally mistreated her during their relationship. Zverev was violent against Sharapova on multiple occasions, including punching her in the face during a confrontation in the pair's hotel room while Zverev was competing in the 2019 Laver Cup, according to Sharapova.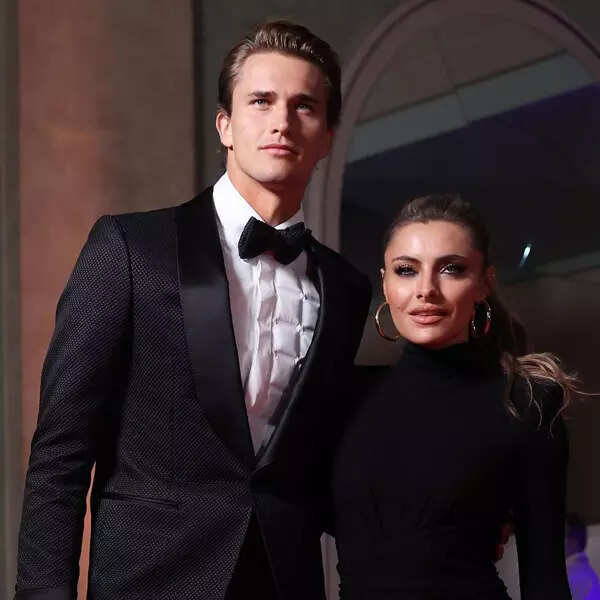 In response to Sharypova's initial allegations, Zverev denied them and issued the following statement: "I am profoundly upset by her remarks." "Because the accusations are false." Rothenberg wrote a second report about the claims in Slate magazine on August 26, 2021. Zverev received a court injunction against Rothenberg in a slander action in Berlin at the end of August 2021.
Read More: Jerry Jeudy Girlfriend- Jerry Jeudy, Antoinette Tharp, and A Complex Life!
Personal Life
"Sascha" is a nickname given to Zverev. He resides in Monaco's Monte Carlo. He grew up in Hamburg and has spent his winters in Florida since he was 12 years old at the Saddlebrook Academy. He is multilingual, speaking German, Russian, and English. Roger Federer is Zverev's tennis idol. In his spare time, Zverev enjoys other sports such as basketball and golf. In the National Basketball Association (NBA), he supports the Miami Heat, while in the Bundesliga, he supports Bayern Munich. Marcelo Melo, a Brazilian doubles specialist, and former French Open and Wimbledon champion is Zverev's best friend on the tour.
Brenda Patea, Zverev's ex-girlfriend, had a daughter, born in 2021. Zverev has been in a relationship with Sophia Thomalla since 2021.
To Know More Latest Updates You Can Visit Our Official Website: Techstry